The state of public opinion polls in Canada tells us a lot about the state of public debate about issues in Canada and the nature of the public opinion business so Jenkins Research is pleased to provide the following on-going analysis of the publicly available polls in Canada.
Public opinion polls, whether one likes them or not, are critical ingredients of public discourse and tools of lobbying and political debate. Whether one likes them or not, there is no arguing that they provide our companies, not-for-profits, and democratic institutions a peek into the minds of Canadians that can help them affect or respond to social, economic and political events. While issue-based reviews of public opinion are evident in the public domain and Jenkins Research has waded into this space, what is missing is a comprehensive attempt to understand what polls are out there.
Using a careful search strategy and a coding scheme to capture the nature of the polls, the analysis here looks at the topics (specifically and in general categories), the sponsors, the modes of data collection, the sample sizes and other survey characteristics..
Analysis of the database will appear in the Jenkins Research Blog.
Each month, we identify public releases through google searches, a review of press releases on the newswire and by going to the research firm websites. Each time a survey is identified, the field dates and research firm are compared against existing surveys in the database. If the results had previously been released, the poll is not duplicated. If it is unique, it is added to the database. In some cases, the same survey has more than one release. For example, an omnibus survey might have multiple clients and/ or topics. As such, we separate poll releases from unique surveys.
The goal here is to capture unique releases of survey results not to capture every mention of public opinion. In the search process, mentions of poll results that do not appear to be a unique release of a survey result are not included.
Only surveys of Canadians are included. While special populations, seniors, women, young people are included, B2B surveys are not included.
Non-survey methodologies are not included.
Best efforts are made to identify releases in the correct month, but numbers are updated for previous months if new poll results are identified that correctly should be allocated to those months.
---
About the data: All of the data reported here were collected by Jenkins Research Inc. Best efforts have been made to be as accurate as possible. Monthly results are updated based on new information. If you are interested in the methodology, you can find the information here.
Disclaimer: All data and analysis is protected by copyright and should not be used for commercial purposes without prior consent.
---
Q3 saw an expected decline in the number of polls released into the public domain from Q2 as the summer broad less polling activity. This aligns well with the 2016 summer result.
International trade and […]
Survey mode is an interesting variable in the current market research industry landscape. Historically we moved from in-person to mail to telephone and online as the principle methods of polling. The latest entry into […]
Q2 saw a rise from Q1in the number of polls released into the public domain as 173 unique surveys produced 257 different releases compared with 195 in Q1. Overall, however, the number of polls is consistent with Q2 of 2016.
More than half of these were national polls with provincial and local polls representing the rest.
Nationally, there were 1.57 national polls released each day in Q2 with a policy related or economic issuepolls at .75 per day and a electoral/ horserace poll at .32 per day.
The sheer volume of polls released each quarter means there is a lot of competition to get "eyes" on any one particular release.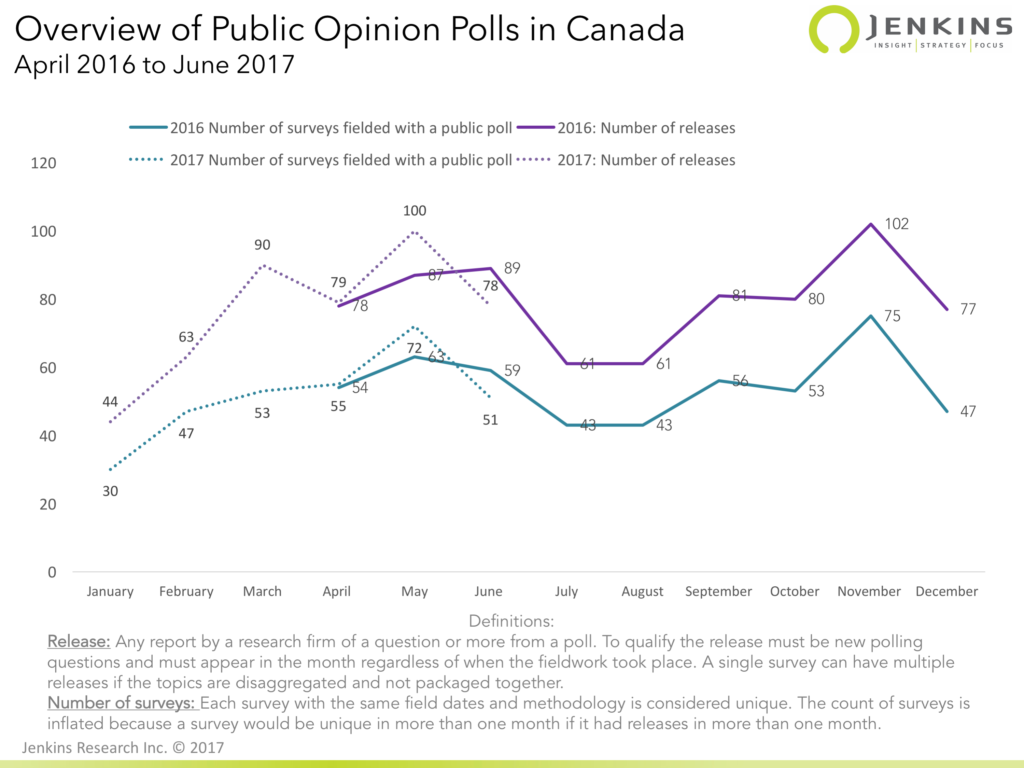 Elections in several provinces in Q2 contributed to a rise in the share of releases that were primarily about electoral/ party competition issues, especially when we consider all releases. The share of releases associated with perceptions of life and world we live in also increased at the expense of public policy questions.
In fact, 51% of all non-national releases were aboutthe political competition (though there may be some issue content here) in that geography. Only 20% of national releases are about electoral competition. The difference reflects the fact that there are so many potential political/ party races at a sub-national level and these competitions are being monitored and reported on.
Public policy remained a major area of polling with 93 releases (53 national). The top categories for national policy releases were issues of drugs and alcohol (15%), followed by the environment (11%), international relations (11%), democracy and governance (9%) and mood/ evaluation of Canada.
The government announcement on marijuana legalization clearly motivated national policy polling and our national birthday contributed to a number of polls reflecting on Canada.
Many policy issues were also addressed in the electoral and political competition polls but in our judgment, the polls in this category were primarily about the horserace even if they contain some policy content.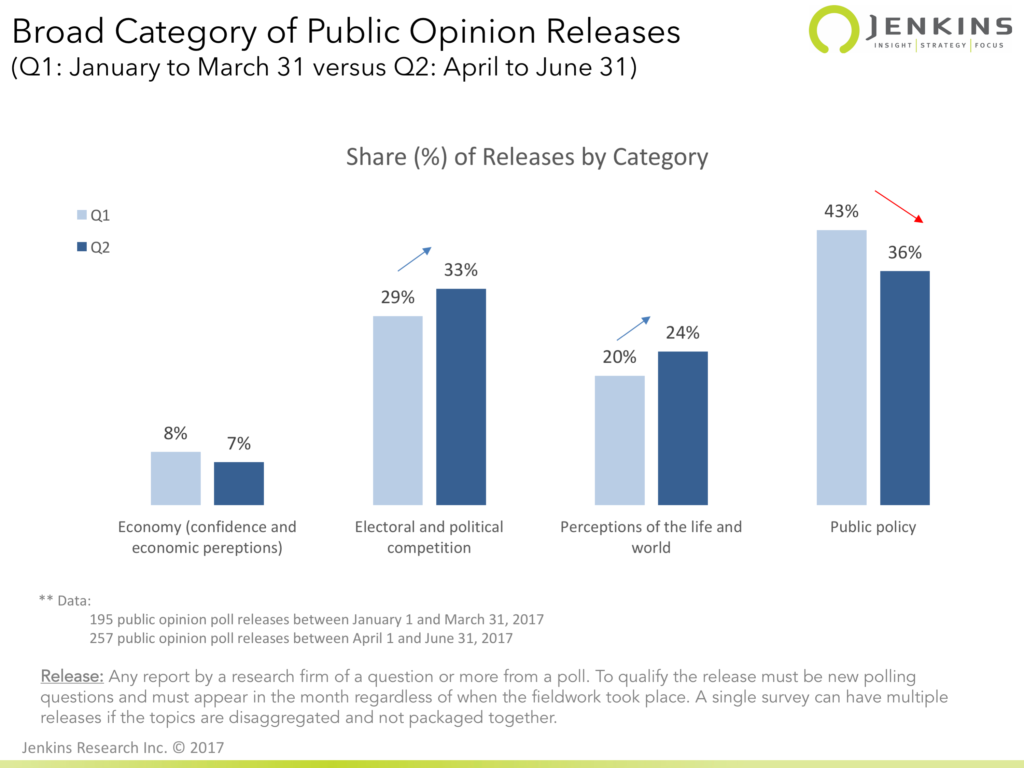 Data reported here is property of Jenkins Research Inc. Data is reported based on surveys identified and coded at the time of writing. As other survey releases are found, the underlying data is updated. The PowerBI dashboard has the most current information.
Interactive Dashboard (PowerBI) is included below.